How Much Time Off Do I Need For A Tummy Tuck?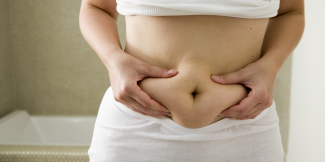 Looking for a smoother stomach? Your Redwood City cosmetic surgeons can improve the appearance of your midsection by performing a tummy tuck. However, it is important to remember that a tummy tuck—clinically referred to as an abdominoplasty—also is a major surgery. This means you need to plan ahead for some recovery time, but how much time? Here is some helpful information from GLOW Surgical Arts to help you determine how much time off you need following a tummy tuck.
The first factor is the extent of the surgery that is performed. Not all tummy tucks are created equal. Our expert cosmetic surgeons can perform anything from a mini tummy tuck to a full tuck. The more extensive the operation is, the longer the recovery time will be.
The second factor is your occupation. What type of job do you have? If it's a fairly sedentary position where you spend the majority of time sitting at a desk and do zero lifting, you may be able to return to work about a week after the procedure. If you are on your feet more often and more active at work, you probably can expect to take off about two weeks. Have a more physical job? Expect recuperation to take even longer—approximately a month—before returning to work. You need to abstain from any strenuous physical activity (yes, even if you get paid for it) for a period of four to six weeks following a tummy tuck.
The third factor is your pain tolerance. As mentioned, a tummy tuck is a major procedure, especially if you have received a full tuck that also entailed muscle repair. Pain level is a highly subjective thing, and patients can have widely different experiences on the amount of discomfort they feel after a tummy tuck.
The fourth factor is your ability to heal. If you heal quickly, you may be able to return sooner to work. However, if you heal more slowly or have a pre-existing condition that makes it more difficult to heal, it can take extra time until you are ready to return to work. Diabetes, obesity, use of drugs and alcohol, and certain medications all could impede your ability to heal quickly from a surgery or any type of wound.
Whatever your situation may be as it relates to the four factors listed above, if you receive a tummy tuck, you should make the decision on when to return to work jointly with your Redwood City cosmetic surgeon. To learn more about the tummy tucks performed at GLOW Surgical Arts or any of the other procedures we offer, call (650) 241-2209 to schedule a consultation.
Located in Redwood City, GLOW Surgical Arts offers expert cosmetic surgery services throughout the Bay Area.