Ways To Correct Sun Damage On Your Face
The effects of time and sun can rob our faces of their youthful look. Whether it's lines, wrinkles,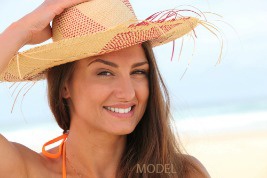 discolorations, or sagging skin, everyone's face ages differently. With the help of a cosmetic surgeon, you can address almost any form of aging on the face to get back a youthful, attractive appearance. And the beauty is, you can choose what fits your lifestyle – from a variety of minimally invasive, in-office procedures, or the more dramatic effects of surgery, to get the look you desire.
Here are a few of the options available today that can make your face look youthful, sleek, and smooth:
Dermal fillers. These non-surgical treatments can address a variety of concerns with just one appointment. They can plump the lips, smooth wrinkles and creases, and add volume in areas you need it, such as around the mouth and nose. The results typically last several months, and there is no recovery time. At GLOW, we use Juvéderm® and Radiesse® on our patients because we have found them to be safe and effective with beautiful results.
Microneedling. This advanced treatment actually stimulates the collagen and elastin in your skin, and improves blood flow. The COSMOPen used at GLOW Surgical Arts is state-of-the-art and can improve fine lines, wrinkles, scarring, acne, pore size, and other signs of aging. The COSMOPen offers the same results as some other treatments, with less pain, downtime, and expense.
Laser treatments. These specialized lasers remove the upper damaged layers of skin to reveal smoother, tighter skin underneath. This can improve the look of sun damage, age spots and darkened areas, and acne scaring.
Cosmetic injectables. BOTOX® and Xeomin® are designed to smooth deep wrinkles and creases, particularly those on the forehead or between the eyebrows. Results can last several months and there is minimal, if any, downtime.
Facial fat transfer. This procedure uses your body's own natural fat cells to add volume and a youthful plumpness back into your face. This gives you a more natural, softer look than facial implants.
Cosmetic eye surgery. Sagging eyelids, whether above the eyes, below, or both, can dramatically impact the look of your face. A blepharoplasty, or eye lift, can remove excess skin, fat, and sagging areas around the eyes to give you a refreshed, rested, and youthful look.
With all the options available today, there's no reason to live with signs of aging, skin problems, or other issues that interfere with your self-confidence and natural beauty. Talk with a cosmetic surgeon about your desires and expectations, and you can review the options that will give you the best results.
GLOW Surgical Arts offers a variety of cosmetic surgery and minimally invasive procedures to help you look and feel more attractive. Request a free consultation online, or call GLOW Surgical Arts at (650) 241-2209.