The Newest Anti-Wrinkle Ingredients In Skin Care
As we become older, concerns about fine lines and wrinkles seem to dominate our skin care needs.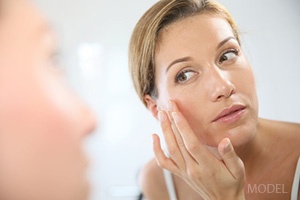 For years now, cosmetics and skin care brands have been releasing products that promise to reverse signs of aging and restore a youthful appearance. Despite the availability of such products, many continue to turn to various facial rejuvenation procedures such as dermal fillers and cosmetic injectables, both proven treatments for reducing signs of aging.
As scientists continue to uncover and work on discovering new anti-aging ingredients, manufacturers are starting to include these new findings in the development of new skin care products. For example, you can now use products that contain peptides. Peptides are compounds that promote the natural development of collagen, and they can stimulate the growth of healthy, new cells responsible for keeping your skin looking fresh and beautiful.
Looking for a new skin care product to banish signs of aging? Below are the newest anti-wrinkle ingredients in skin care. When shopping for new skin care products, search for those that have one or more of the following ingredients.
Pentapeptide: This five amino-acid peptide has the ability to increase the production of collagen, also known as collagen synthesis, by as much as 117 percent.
Peptamide Y6: This new biopeptide is a natural extract of yeast fermentation, and works by enabling the genes in your body that slow down and reverse the aging process. Peptamide Y6 also contains unique skin-conditioning properties that hydrate skin, promote elasticity, and prevent the formation of new wrinkles.
Copper peptide: Copper peptide contains three amino acids and is also referred to as a tripeptide. This particular ingredient stimulates your immune system, which helps your body eliminate toxins that can accelerate the aging process. Copper peptide also contains antioxidants and compounds that fight inflammation, and has the ability to promote faster wound healing and healthy collagen production.
Snap 8: This neuropeptide focuses specifically on treating and reducing wrinkles and fine lines caused by repetitive facial expressions, such as smiling or squinting.
Hexapeptide: This neuropeptide functions as a near-natural form of Botox, and can help prevent the muscles in your face from contracting and causing wrinkles while smoothing out fine lines at the same time.
When anti-aging skin care products fail to work at smoothing out wrinkles, your next best options are cosmetic injectables and dermal fillers. Cosmetic injectables such as Botox and Xeomin can help fade away creases and wrinkles for an 4 to 6 months. Both injectables are associated with no downtime, which means you can return to normal activities following your treatment.
On the other hand, dermal fillers such as Juvederm and Radiesse have the ability to smooth and soften deep lines and folds, restore volume, and enhance facial contours. Like Botox and Xeomin, dermal filler treatments are associated with no downtime, and satisfying results can last for 10 months or longer.
GLOW Surgical Arts offers a variety of cosmetic surgery and minimally invasive procedures to help you look and feel beautiful. Request a consultation online, or call GLOW Surgical Arts at (650) 241-2209.