Which Breast Implants are Safest?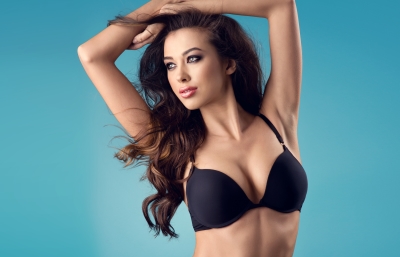 Breast implants are a great way to create a voluptuous silhouette while improving your self-confidence. But any type of breast implants comes with some risk.
For instance, the breast augmentation process requires a surgical procedure, anesthesia, and small incisions. And the implants themselves can occasionally cause complications.
Even so, it's an immensely popular procedure. In fact, it's the most common type of cosmetic surgery performed in the United States. In 2015, 280,000 women had breast enlargements and 106,000 surgical reconstructions following mastectomy.
So which type of implant is safest - saline or silicone? You'll need to discuss your options with your cosmetic surgeon, but here is some basic information to consider.
Risks of Both Types of Implants
In general, breast implants are very safe. However, both saline and silicone implants can cause:
Capsular contracture or scar tissue that alters the shape of the breast implant
Breast pain
Infection
Temporary changes in nipple and breast sensation
Implant leakage or rupture
A second surgery is sometimes required to correct these complications, especially if a rupture were to occur.
Saline Implant Leak Risks
If a saline implant ruptures, the implant will deflate and it will be obvious there's a problem. The saline that filled the implant will be absorbed by your body, and you will experience no side effects. However, you will need surgery to remove the uninflated implant and replace it with a new one.
Silicone Implant Ruptures
Ruptures in silicone implants are much harder to detect. In some cases, the silicone remains trapped inside the implant capsule, and you may be unaware that there's a problem. These "silent ruptures" must be detected with an MRI scan.
A silicone leak isn't believed to cause long-term health problems such as cancer, reproductive concerns or diseases like rheumatoid arthritis. However, a ruptured implant could cause pain or changes in the appearance of your breast.
If you do have a rupture, your cosmetic surgeon will recommend removing the implant and replacing it with a new one during the same surgical procedure. If you're not having symptoms, your surgeon may advise you to wait before undergoing surgery to remove the ruptured implant.
Long-Term Safety Considerations
Both saline and silicone implants are safe for long-term use. However, neither type is guaranteed to last forever. About 20 percent of women who get implants need to have them removed within about 10 years.
To determine if your implants are functioning as intended, you'll need to have an MRI scan every couple of years. This will help your surgeon see "silent ruptures" or other changes that need to be addressed.
The Bottom Line on Safety
Both types of breast implants are safe for long-term use. Your decision will be determined by your body type, breast anatomy and other factors that you will discuss with your surgeon during a consultation.
---
When you're ready to schedule a consultation with one of our cosmetic surgeons,
please call (650) 562-6762 or use our online form to request an appointment.
---
Further Reading: